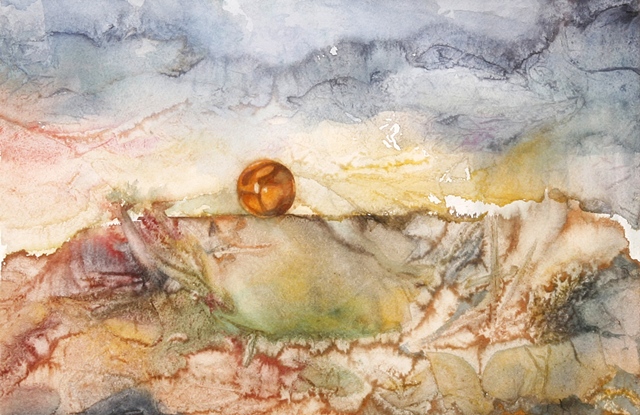 Thank you for visiting my website!
I am a Lithuanian American artist residing in Madison, WI. A graduate of the Rhode Island School of Design (BFA, Illustration, '79), I've been creating art for quite a few years in many mediums.
Since I was a child, marbles, especially vintage ones found in the earth, have evoked in me a curiosity as to their origins. How old are they, and where were they produced? Whose hands lovingly touched and played with these simple, yet breathtakingly beautiful orbs?
The complexity of light, color, and design within these tiny treasures further sparked my creativity and as an adult, I continue to explore and concentrate on these subjects in my art. Without exception, I work from life for my representational pieces, as I believe that a photograph cannot thoroughly relate the subtle nuances that are inherent to glass marbles.
In my watercolor and mixed media pieces, the marbles tend to take on an ethereal quality. The small acrylic paintings are more playful and straightforward. In my oil paintings, I find that magnification on the canvas provides an even greater challenge to me as an artist.
Lately, I've concentrated working on abstract pieces which include spheres (of course!) but with more of a serendipitous approach to watercolors. I allow the medium itself to guide my hand and heart in dictating the result.
2020 COVID-19: On March 15, 2020, when most of us began to quarantine because of the virus, an artist friend from Maine and I promised to produce a small piece of art every day to keep sane, to keep connected. We decided on a 3" size, any medium, and we shared our work each day digitally. Naturally, mine are 3" rounds. Neither of us thought that we'd have a collection now of well over 200 pieces. And it goes on...
Most recently, I have been inspired by a digital app with which I use an Apple Pencil to transform my photos into paintings. I enjoy creating brush strokes to add texture, depth, and more of a mood that I can create within those images through digital manipulation. I then have them printed with archival ink on ready to hang canvas. Because they are digital, they can be printed on any size canvas.
Prices are based on size. Message me!